Hawkins-Poe Monthly Newsletter January 2022 / Market Report December 2021 Data
Posted by Hawkins-Poe on January 7, 2022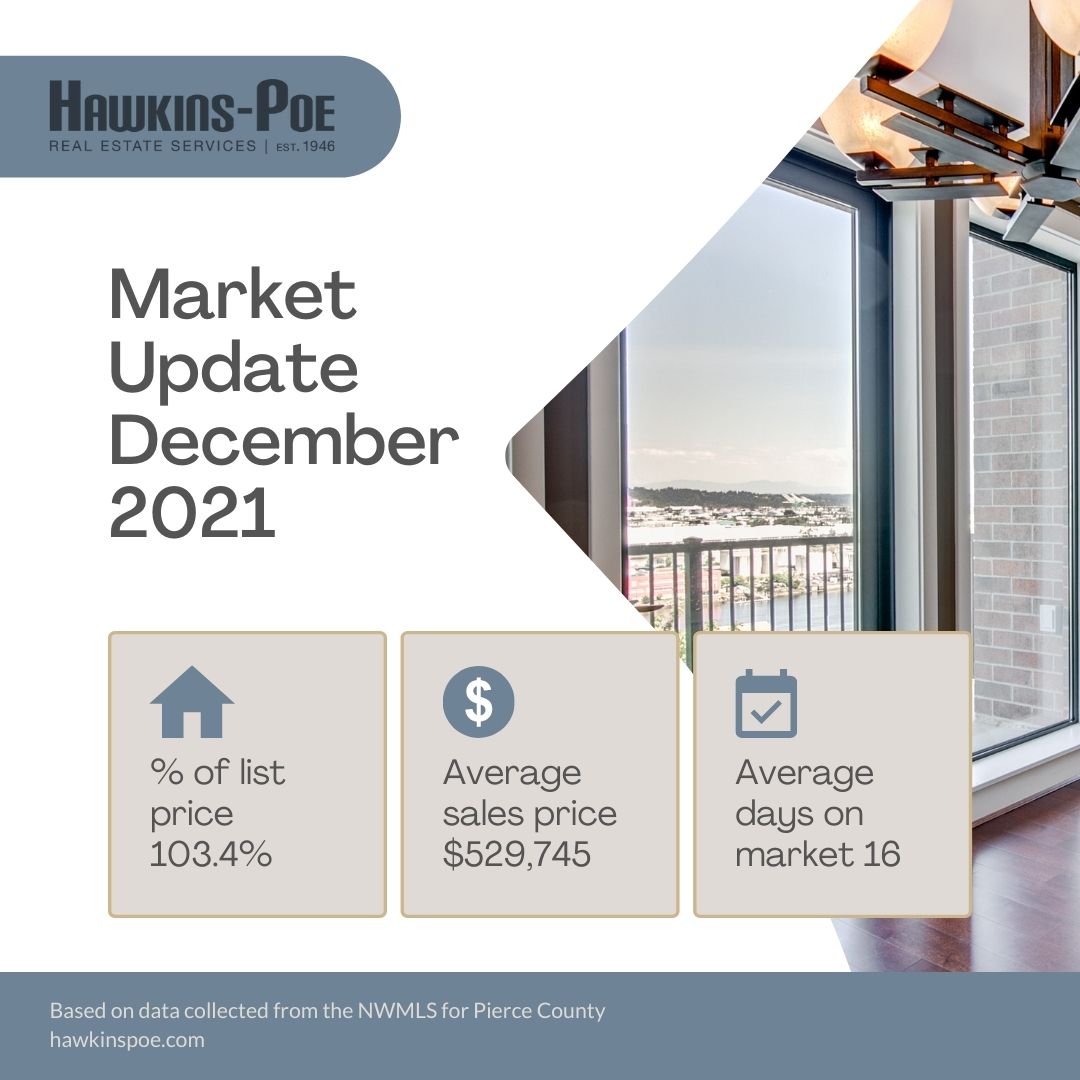 Northwest MLS brokers end 2021 with depleted inventory, rising prices, weather disruptions
Tacoma, Washington January 6, 2022
Severe shortages of inventory, record-low temperatures and snow restrained December housing activity around Washington state beyond expected seasonal slowdowns, according to a new report from Northwest Multiple Listing Service.
Summary statistics from the MLS show the volume of new listings added area-wide dropped 12.3% during December compared with the same month a year earlier. Year-over-year inventory, pending sales, and closed sales all fell by double digits. Only prices rose – up 17.4% overall for homes and condominiums that sold across the 26 counties in the report.
The median price for last month's closed sales was $572,900, up from twelve months ago when it was $488,000. Prices for single family homes (excluding condos) surged nearly 17.5%, from $502,247 to$590,000. King County was one of only three counties where the single family price change was under10%; prices there rose from $740,000 to $810,000. A dozen counties had price jumps of 20% or more.
Condo prices jumped 17.6%, from $370,000 to $435,000. San Juan County reported the highest median price for last month's condo sales ($642,500), followed by Snohomish County ($500,000).
Northwest MLS brokers reported 8,017 closed sales last month, a drop of nearly 1,000 transactions from the year-ago total of 9,008. Eleven counties had double-digit declines, including King (down 16.3%) and Snohomish (down 17.6%). October was the only other month during 2021 when year-over-year sales fell.
Despite hurdles (including pandemic-related), Northwest MLS brokers tallied 107,354 closed sales during 2021, an increase 12.1% from the previous year when they notched 95,760 closings.
Even though the number of pending sales, at 5,850 overall, declined more than 15% from a year ago, they far outstripped the number of new listings (4,617), contributing to the meager month end inventory. In fact, a search of NWMLS records going back a decade indicates the 3,240 active listings of homes and condos area-wide is the first time the selection has dipped below 4,000 listings. A year ago, buyers could choose from 4,739 active listings while in November there were 4,621 properties in the MLS database.
Stated another way, there was less than two weeks of supply (0.40) at month end. Inventory was even more sparse in seven counties, with Snohomish having the most acute shortage at 0.20 of a month's inventory. Other counties that fell below 0.40 of a month's inventory, were Clark (0.26), King (0.27), Island (0.29), Pierce (0.32), Thurston (0.31) and Kitsap (0.38).
"With empty shelves and ending the month in the deep freeze, home sales where really tough" commented Frank Hawkins President of Hawking Poe Inc., in Tacoma. "I am actually surprised we produced the sales numbers we did, given the extremely low inventory and weather, he continued.
Data provided by North West Multiple Listing Service